Ordering custom latch hook kits from Craft Critter
Pricing
Every kit is custom priced, with calculations based on project size. You can interactively adjust your project parameters and view the resulting price before placing your order.
For example, a " x " project with colors shipped to a U.S. address would currently cost $ (Mesh: $, Yarn: $, Latch hook tool (optional): $, and Shipping & Handling: $). Pricing subject to change at any time.
Your kit: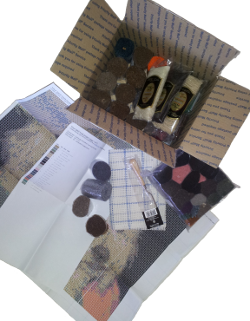 Your custom kit will consist of the following:
[Optional] Canvas cut to the size of your custom project. Canvas does not include the colors printed on the canvas. It is simply generic 5-mesh canvas.
Pre-cut yarn. Some yarn may be packaged in 320 counts, and some will be in smaller rolls, labeled with the item number and color.
An actual-size project plan printed on plain paper with color coding.
[Optional] A wooden-handled latch hook tool.
Shipping:
We ship all orders by U.S. Postal Service, and to U.S. addresses only. A flat fee shipping and handling charge of $16.50 is incurred for all U.S. orders, regardless of size. Multiple orders will incur multiple shipping and handling charges. Time to ship will vary because of the custom nature of the product, your location, and our inventory. If we have everything you need in stock, we will attempt to ship your product within three to five business days. We will send you email shortly after your kit ships. Please allow up to 2-4 weeks for shipping.
Returns:
Due to the highly customized nature of our product, returns incur a 20% restocking fee (after subtracting the shipping charge). Returns for projects shipped to U.S. addresses for credit are accepted for up to 30 days after we ship your order. Credit will be issued to the original credit card only, and only if materials are unused and in the original packaging. Please include the paperwork with the kit, including your order number. Please also include a reason for the return. We do not pay for return shipping - you are responsible for return shipping charges, which may vary significantly from the shipping originally charged to you. The return shipping address will be included in your kit. As our kits are each custom built and cannot be resold, we reserve the right to refuse returns if you have already taken advantage of our return policy on a previous order. Our return policy is subject to change at any time, so please refer to this page before placing your order.
Ship your unused kit to:

Craft Critter LLC
9420 SW Mountain View Ln
Tigard OR 97224
Returns for orders shipped outside of the U.S.
cannot be returned for credit
.
Security
| | |
| --- | --- |
| For your protection, credit card transactions are protected by high-grade AES-256 256 bit key SSL encryption, verified by Let's Encrypt. | |